Toyota Tonero 02-8FGJF35 Dual LPG/Petrol 3.5t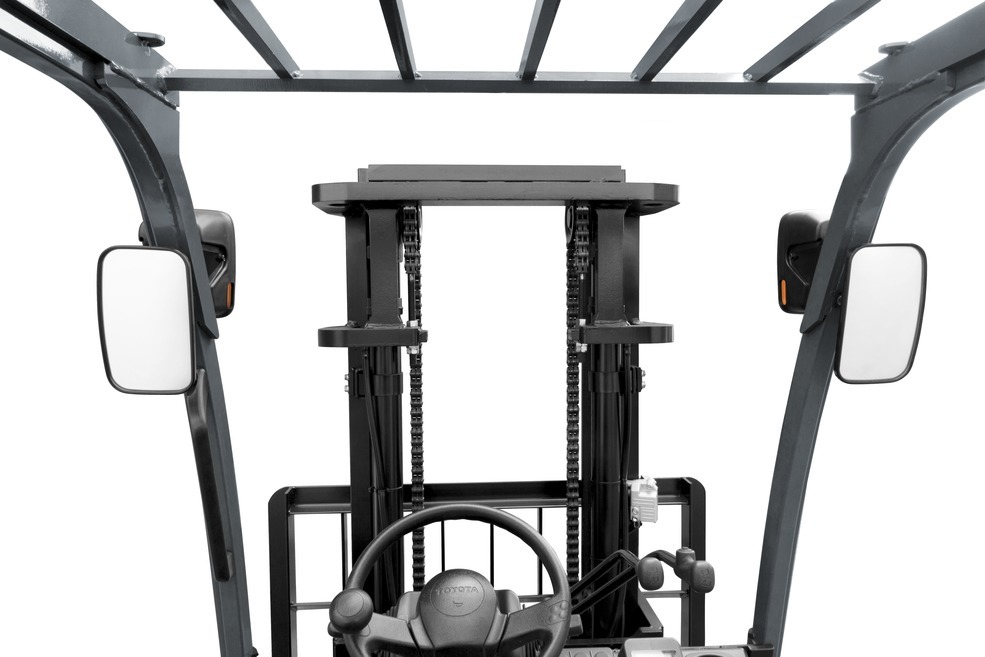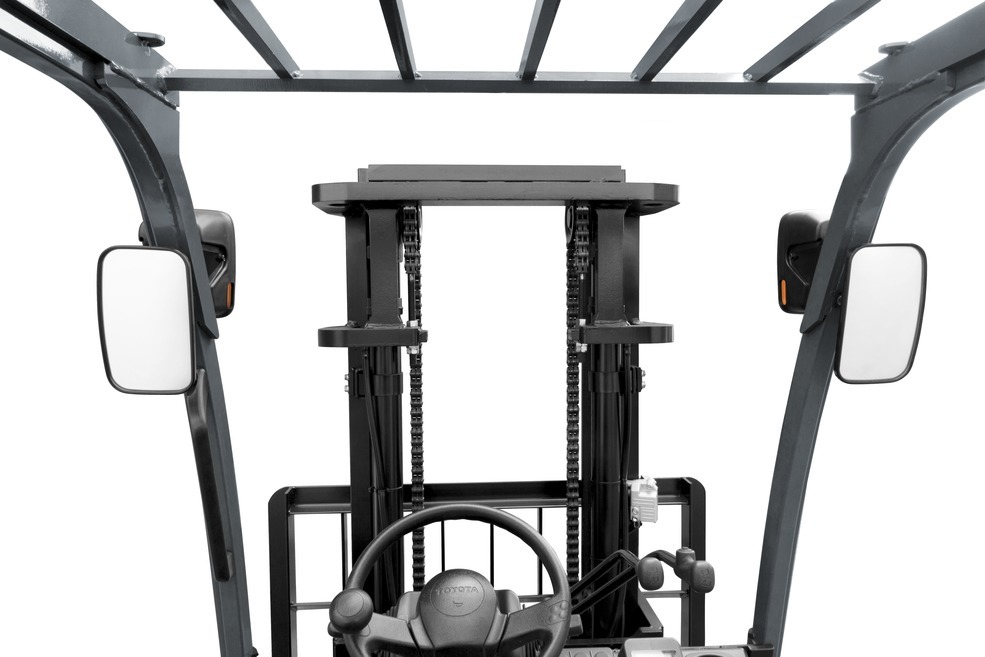 | | |
| --- | --- |
| Power Unit | DUAL Fuel LPG / Petrol – 81065 |
| Capacity (kg) | 3500 |
| Transmission | Torque Converter Transmission |
| Cabin | Open with Polycarbonate Roof |
| Mast Type mm | FSV TRIPLEX 4300 |
| Lift mm | 4255 |
| Free Lift with/without Load Backrest mm | 1015/1500 |
| Height Mast Lowered mm | 2230 |
| Year | 2022 |
| Running Hours | 00,000 |
| Tyres Front | Solid PSC 250 – 15 |
| Tyres Rear | Solid PSC 6.50 – 10 |
| Track Width Front/Rear mm | 1060/965 |
| Wheels, Front/Rear | 2x/2 |
| Height of Overhead Guard (Cab) mm | 2180 |
| Service Weight kg | 4820 |
| Fork Dimensions mm | 45/125/1200 |
| Nominal Power KW | 42 |
| No of Cylinders/Displacement cm3 | 4 / 2237 |
| Turning Radius mm | 2490 |
| Max Gradeability, with/without Load % | 20/18 |
| Wheelbase mm | 1700 |
| Integrated telematics | NO |
| Warranty | 12 Months |
| Condition | NEW |
Ideal for medium to heavy-duty indoor and outdoor material handling applications
Powerful and reliable Toyota industrial LPG engine
Torque converter transmission for smooth driving
Excellent visibility of the fork tips at any height for safe and confident driving and load handling
Looking for an engine-powered forklift that's both productive and reliable? The Tonero LPG trucks are ideal for intensive work both indoors and outdoors. Safe manoeuvrability and fast acceleration make the Toyota Tonero highly productive in a range of material handling applications, from light to intensive.
System of Active Stability
The first active system for controlling forklift stability. SAS provides advanced technology for unmatched truck stability which increases safety and productivity during load handling.
Toyota Power
Designed in-house, the engine is specifically designed for industrial applications and allows quick acceleration and optimised fuel efficiency.
Comfortable operation
The fully adjustable seat with side-wings and lumbar support, the large leg room, and adjustable steering column offer every driver an ergonomic experience.
All-round visibility
The clear-view mast and overhead guard give operators an excellent view of the load and environment.
Available with diesel or LPG
System of Active Stability (SAS)
Up to 3,5 t and 7 m
Compliant with latest emissions regulations
The Toyota Tonero counterbalanced trucks up to 3,5 tonnes offer stability and productivity during light to heavy-duty outdoor applications. The low truck noise and vibration, as well as the wide range of cabins contribute to driver comfort. These fast and manoeuvrable models are available with diesel or LPG engines. We also offer IC trucks with cushion tyres for narrow indoor operations.​​​​​​​
Toyota SAS (System of Active Stability)
Toyota OPS (Operator Presence Sensing)
Toyota ORS seat (Operator Restraint System)
Orange seatbelt including seat belt interlock
Wide visible mast (FSV4700 mm)
Load backrest (Height: 1220 mm)
Long forks (Length: 1200 mm)
Long forkbar (Length: 1020 mm)
3-way valve (A400)
Dual brake system
Pneumatic shaped cushion tyres
Full hydraulic power steering
7" cyclone air cleaner with snorkel air intake
Anti-restart ignition key switch
Long life coolant 50%
LED Headlights
LED Rear combination lights
Blue LED Rear warning light
Multi function display II including self diagnostic system
Travel speed control, engine auto stop and ECO mode
Adjustable tilt steering column
Polycarbonate roof