BT Levio LWE130 1.3t Li-Ion
| | |
| --- | --- |
| Power Unit | Electric – 6940765 / 6922131 |
| Capacity (kg) | 1300 |
| Mast Type mm | N/A |
| Height Mast Lowered mm | N/A |
| Year | 2023 |
| Running Hours | 00,000 |
| Castor Wheel | Polyurethane |
| Drive Wheel | Polyurethane |
| Fork Wheel Single | Prime |
| Operator Type | Pedestrian |
| Service weight including battery kg. | 246 |
| Forks mm | 76/156/1150 |
| Turning Radius mm | 1410 |
| Width over forks mm | 570 |
| Overall width mm | 700 |
| Service Brake | Electromagnetic |
| Drive Control | Variable AC |
| Wheelbase (forks raised/lowered) mm | 1199/1252 |
| Battery Type / Energy Solution | Li-Ion |
| Battery Voltage, nominal capacity V/Ah | 1×25/50 |
| Charger | Built-in 1 Phase 110-240V 9A UK Plug |
| Integrated telematics | Toyota I_SITE |
| Warranty | 36 Months |
| Condition | NEW |
Compact for narrow aisles and on-board vehicles
Intuitive tiller arm for up to 208° steering
High-quality, robust chassis
Low energy consumption
Smart truck: easy to connect, monitor & improve
Looking for a lightweight powered pedestrian pallet truck that carries loads with ease over short to medium distances? Being compact and light, as well as quiet in operation, it allows for safe and ergonomic use in a wide variety of applications. The low-maintenance AC motor offers great energy efficiency, as well as durability and strength.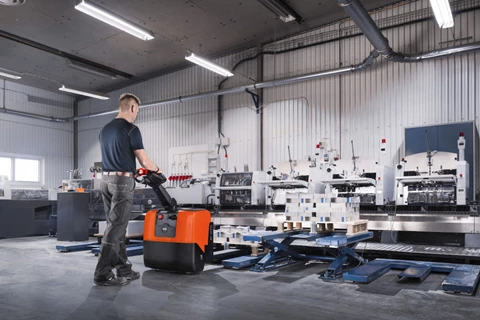 Easy battery charging
Features a built-in charger for easy charging – just plug it into a power socket. An in-vehicle charging system is also available for charging while travelling on delivery vehicles. It features intelligent control to operate only when the main vehicle engine is running. Li-ion maintenance free battery.
Safe operation
This truck is equipped with PIN code access, individual parameter settings and automatic shut-off for safe operation. When starting uphill or in an inclination, the forward travel mode can be selected without any risk of the truck rolling backwards when the brakes are released.
Ergonomic design
The intuitive tiller arm offers a 208° steering angle for smooth and easy manoeuvring. For an ergonomic driver experience in combination with storage space and low sound levels.
Energy efficiency
The revolutionary low-maintenance AC motor offers durability and strength, as well as low energy consumption. The standby mode cuts off most energy-consuming components. And a smart charger gives you an increased battery lifetime.
Smart truck
Smart trucks are equipped with telematics hardware as standard. These trucks can be easily connected with I_Site from Toyota, offering insights into battery management, geolocation, shocks, and many more.
Safe, robust, ergonomic design
Optional in-vehicle charging
Up to 1.3 t
Smart Truck
Li-Ion energy solution
The BT Levio LWE130 is a lightweight electric truck perfect for applications in confined areas such as retail, shops and supermarkets, as well as on-board vehicles. The LWE130 is intuitive and user-friendly thanks to its quiet operation and programmable driver parameters. This truck comes with a built-in charger for fast and easy charging, and has different choices of energy solutions. Built according to TPS, this truck is equipped with telematics hardware, making it a smart truck that can be connected. This allows the user to easily monitor its activity together with GPS positioning that will support safety and efficiency.
Technical description
Compact and easy to manoeuvre
Castor link system
Maintenance-free batteries
Built-in charger
Click-2-Creep
Individual parameter settings
Maintenance-free AC drive motor
Access control with pin code
Smart truck with telematics hardware
Compatible with fleet management tool I_Site